Head Down the Aisle in Style!
Here Comes the Bride…
…AND the groom, AND the bridesmaids, AND the whole wedding party!
Which is better, Christmas or Wedding Season?!  We at The Tailor Maid would probably pick wedding season, hands down! We blame it on the beautiful gowns, the punchy colored (and never boring!) bridesmaids dresses, and the crisp, dark tuxedos.
A wedding gown–be it white, ivory, covered in lace, ruffles, tulle, pleating, or all of the above–what can we say?!– Our tailors love them all, as long as they fit perfectly!
Not only is our staff skilled in complex garment construction and alterations, but we have a fast turn around time too– The Tailor Maid can complete most alterations within a week! We also boast extra large dressing rooms, special appointments upon request, and our store is open 7 days a week,  with Mon-Fri open until 8 PM! (Our full store hours can be found below.)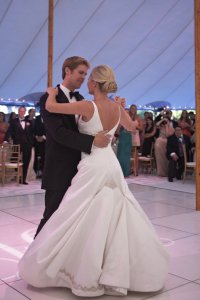 Our client, Katie Anderson, tied the knot last summer!
The Fogelsong/Anderson wedding party went down the aisle with style!
Please inquire about special and specific wedding rates, and any fitting questions you might have!
We can't wait to make your bridal party look their best!