RESTYLE FOR STYLE
Updating your quality clothing
Is the fabric a favorite but the style all wrong?
Do you want to save that suit you bought those matching blouses and accessories for?
Leave it to the expert "Restylers" at THE TAILOR MAID. We create possibilities!
We can. . .
Narrow Lapels
Remove Shoulder Pads
Change Sleeves to
3/4 Length
Change Pants to
3/4 Length
Add a zipper
And much, much more –
Just ask!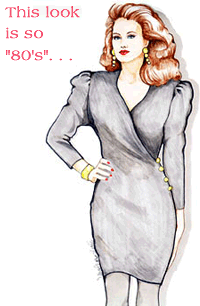 illustration:
Jan Mucklestone Fischer
The Tailor Maid offers:
Express Service – 20% surcharge
48-hour standard service
On-site professional seamstresses and tailors
Extended shopping center hours
Modern, well-lit surroundings
Large, private dressing rooms
Our Promise:
Expert Workmanship • Courteous, Efficient Service