Custom Made Clothing
We are all very excited to offer this new service and as always, very appreciative of your business.  We can create custom clothing designed just for you!  Bring in a garment you would like us to duplicate and your fabric.  Please allow about 2 weeks for completion and allow time for at least 2 fittings.  If you will leave your name and contact information, I will contact you to make an appointment for this specialized service.
About Us >

In Home Services
We will come to your home or office, do your fittings, bring the alterations back to our workshop and return them to you… alterations completed! Please add 20% for this service.  Do you want a copy of your favorite jacket, shirt or dress?  We can duplicate it.  Let us know how we can best serve you!

Attire for the Whole Wedding Party!
Which is better, Christmas or Wedding Season?! We at The Tailor Maid would probably pick wedding season, hands down! We blame it on the beautiful gowns, the punchy colored (and never boring!) bridesmaids dresses, and the crisp, dark tuxedos.  Does your heirloom dress need customizing?  Let us tailor that special gown just for you.
Call Us at (650) 328-8858 or Click here to Email Our Store Manager Nina Tran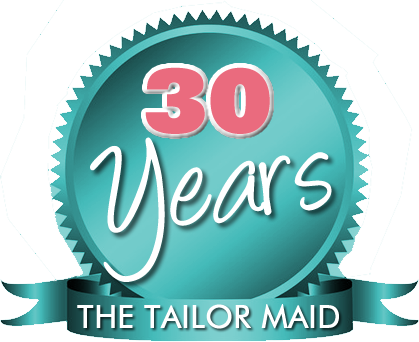 CUSTOMER SERVICE & QUALITY
The Tailor Maid is about bringing professionalism, consistency, and creativity to the alterations business. We are a place where the customer feels welcome and taken care of and the staff feels appreciated and an integral part of our success. We are very much an owner-involved business. The Tailor Maid's very special theme is CUSTOMER SERVICE and QUALITY. Our Promise: Expert Workmanship • Courteous, Efficient Service